If you have just got engaged, congratulations! You will have a number of important things to plan for your forthcoming wedding day, at the heart of which will be your wedding ceremony.
If you are thinking about getting married at St. Thomas a Becket, Hampsthwaite we hope these pages will help answer some of your immediate questions. Once you have an idea of the date you are hoping for, please contact the Vicar in the first instance to check that your date is available and that you are able to marry at St Thomas's.
Please download our Weddings Leaflet to help you with some vital information (see here) or read on for further information.
Can we get married at St. thomas'S?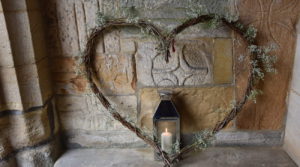 The Church of England has special rules regarding who can get married in a local church. These rules changed in October 2008 to make it easier to get married in a church with which you have a connection.
If you currently live in the parish or you used to live in the parish for more than 6 months, if you were baptised or confirmed in the parish or if your parents or grandparents were married in the parish, then you have a qualifying connection with the church. You are also able to get married in a church where you have been worshiping regularly for over 6 months, so don't worry if none of the former apply but you feel this is where you want to be married, many of our wedding couples qualify in this way. You will need to contact the Vicar to arrange which services are best for you and you will be made very welcome.
How do we book a wedding?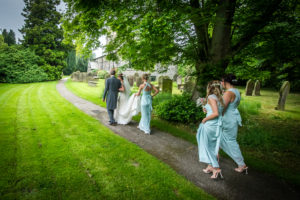 To discuss reserving a date, once you have checked your qualifying criteria, please contact the Vicar.
You will need meet with the Vicar to verify your citizenship and residency (by proof of both with your current passports and letters to your home addresses) and you will need to fill out an application form.
To avoid any disappointment this should be done before booking your reception. Please note that we do not conduct weddings on Sundays, or over Christmas or Easter, and the availability of choristers and bell-ringers is less certain on weekdays.
What happens in the service?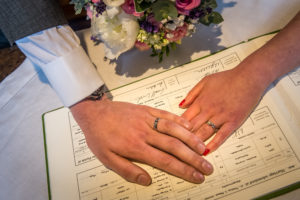 The service usually lasts about 30-45 minutes. It will include readings, prayers and hymns, vows will be exchanged, the registers signed and a blessing given. There can be between one and three hymns (two is usual) and organ music for the entry of the bride, the signing of the register and the procession out at the end of the service.
Please note that we are a traditional parish church and therefore hold to our tradition of organ music for the arrival of the bride and the couple leaving church. For your readings, you will need to include a Bible reading.  A second reading can be added, either from the Bible or another source (the latter must be approved by the priest taking the service in advance).
Music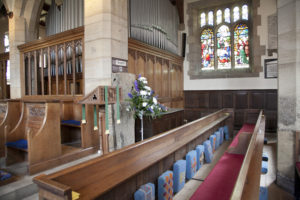 You will need to discuss the music you would like to have with the priest taking the service, who will liaise with our Organist/Choirmistress.  It may be possible to gather a small choir together to lead the singing, but this is most likely to be possible in term time. Please note that we are a traditional parish church and therefore hold to our tradition of organ music for the arrival of the bride and the couple leaving church.
Here is a selection of music regularly played and sung at weddings in our Church:
Readings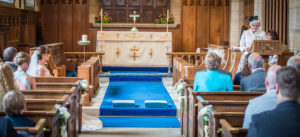 Please find following some popular Bible readings for weddings:
1 Corinthians 13:1-13
If I speak in the tongues of mortals and of angels, but do not have love, I am a noisy gong or a clanging cymbal. And if I have prophetic powers, and understand all mysteries and all knowledge, and if I have all faith, so as to remove mountains, but do not have love, I am nothing.
What goes in the 'Order of Service'?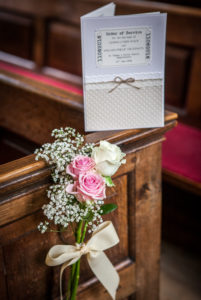 You will need to produce an 'Order of Service' which will include all the elements of the service for the congregation to be able to participate. Please ensure that you send the priest conducting the service a draft and receive approval of the wording before printing.
This is usually printed as an A5 booklet and can be as plain or as personalised as you wish. Please make sure that you submit a draft Order of Service to the priest taking the service for approval prior to printing. For a template for your Order of Service please click here.
What about flowers?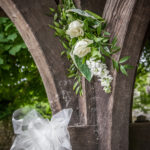 You will need to contact our Flower Co-ordinator before you make any arrangements. We ask that you leave a least one arrangement in Church for the Sunday Services.
How much does it cost?
There are fees payable for your wedding, which are set annually by the Church Commissioners, together with locally set fees for the Organist, Choir, Bells and Verger (and heating when needed!). For more information, please download our weddings leaflet (see here). 
Photography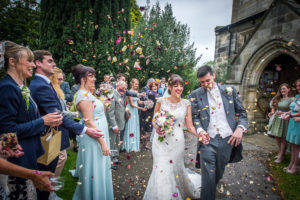 Your official wedding photographer will want to take the best pictures they can for a record of your wedding day. Please note that during the service only the official photographer is permitted to take photographs. The official photographer will need to work from the back of church using a long lens, but is able to come into the vestry during the signing of the register. Please make sure your photographer is aware of this well in advance to avoid any disappointment on the day. Should it be raining on your wedding day, you will be welcome to have photographs of you with your congregation taken in church immediately after the service.