WELCOME TO ST. JAMES', BIRSTWITH
We have our Annual Parochial Church Council meeting (church speak for AGM!) on Thursday 30th March at 7.15pm in the St. James' Community Hall. If you are on the Electoral Roll you are invited to attend the meeting. However, EVERYONE can read the pack to see what's been happening in the last year and we encourage you to do so! CLICK HERE to read and/or download the digital pack. 
If you have anything to ask at the APCM meeting, please email the PCC Secretary, Sophie Bartlett, in advance of the meeting: [email protected] 
We hope to see you there – refreshments will be provided! 
spring fayre
Please join us on Saturday 29th April for our spring fundraising events. Full details on the poster!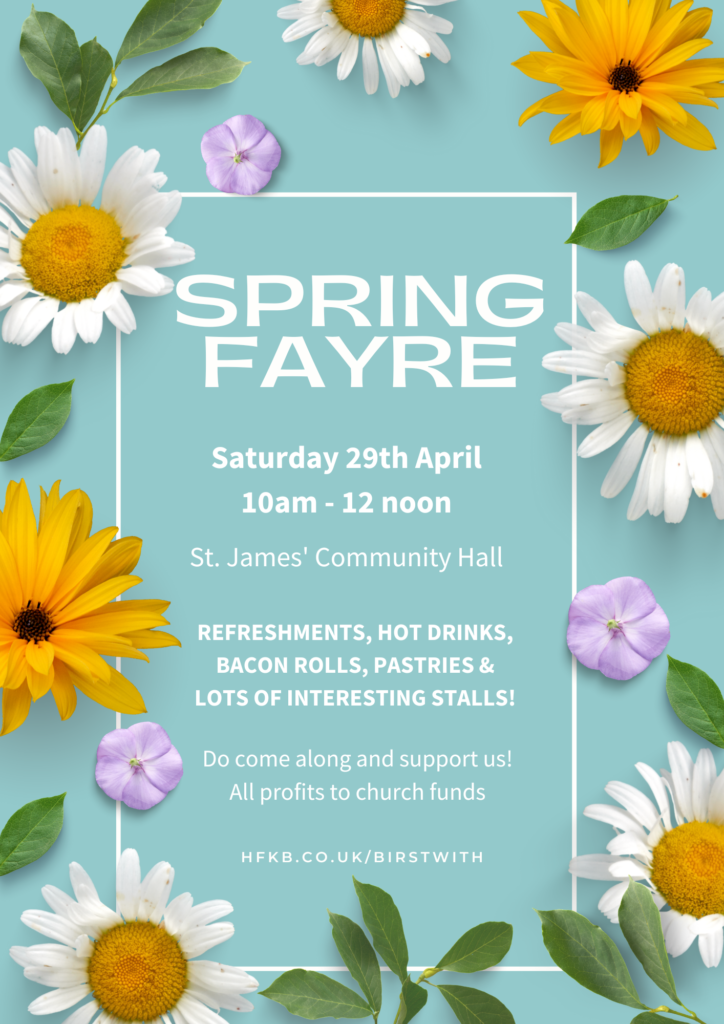 WHO WE ARE
St. James' is a Church of England parish church at the heart of the community in Birstwith, a thriving village between Harrogate and Pateley Bridge, in the Nidderdale Area of Outstanding Natural Beauty. We are a friendly worshipping community with a welcoming Sunday Club, a strong musical tradition including a robed choir and band, and a range of groups and activities. Click on the various links to see what we can offer.
We hope you find what you are looking for on these pages and we would be delighted to welcome you, whether as a visitor or to join us regularly in worship and fellowship.